Used Books Needed for Library Sale

Book donations are now being accepted for the May 6 Friends of the Modesto Library Used Book Sale




The Friends of the Modesto Library's annual Used Book Sale will take place Saturday, May 6, on the Modesto Library portico from 8 a.m. to 3 p.m. Book donations are needed to ensure the success of the sale, which is the largest annual fund-raising effort for the non-profit organization, whose mission is to support the Modesto branch of the Stanislaus Library by providing funds for materials and programs.




Donated books may be delivered to the Modesto Library at 1500 I Street in downtown Modesto. You can also call Maree Hawkins (209) 527-1517 or Denise Nordell (209) 527-1867 to arrange for pickup. No magazines, textbooks, damaged books or encyclopedias, please.




100% of the money raised from the Used Book Sale will go directly toward providing library services for the community. 




Volunteers are needed to help at the event. Contact Book Sale Chair Pat Glattke at (209) 985-7156 or plaza611@sbcglobal.net for more information.

 
---

Local Librarian Wins National Award



Olga Cardenas, youth services outreach librarian at the Stanislaus County Library in Modesto, is one of 10 librarians recognized nationally as winners of the I Love My Librarian Award sponsored by the Carnegie Corporation of New York, the New York Library and the New York Times. She received the award in New York on Thursday, December 1, 2016. 






---
The Modesto Friends of the Library was presented an award by Stanislaus Reads for sponsorship of children, and participation in, the Imagination Library.
School readiness starts from the 1st day of life. We know this, yet 61% of Stanislaus County homes with young children do not have any books. Imagination Library, a vital component of Stanislaus Reads, addresses this lack. Every month, a carefully selected book is sent to each registered child. Studies show children growing up in homes with many books get 3 years more schooling than children from bookless homes, independent of their parent's education or occupation.
Dolly Parton began the Imagination Library in 1995 because she saw the need for books in the homes of young children. She has worked to fill this need to the tune of sending 67 million books to 1400 affiliates.
Financing comes from the participating communities; the amount estimated is $150 to sponsor a child from birth to age 5. To date, Stanislaus County has $60,000 in donations from involved community groups and individuals, funding for 850 children.
Support the Library When You Shop
Grocery Cards
Our organization participates in several scrip programs. Each pays us a percentage of what you spend in their stores (1-5% for the grocery stores, with online stores paying as much as 12%) at no cost to you. We have already earned over
$15,000
for the library and hope to earn even more in the future. It's certainly possible, but it can't happen without the participation of lots of Friends and others.
The process is completely free, though it is different for each of the programs. More information is available here.
Purchase your items through eScrip's Online Mall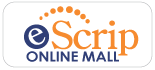 What is eScrip? eScrip has created a system that rewards customer loyalty by contributing a percentage of purchases made by participating families to school or youth based groups. Parents, teachers, friends and families are encouraged to register their grocery club cards, and existing credit/debit cards as supporters. A percentage of all purchases made at eScrip merchants will be given back to Friends of the Modesto Library. 

Participating merchants contribute each time your families make a purchase using their registered cards. There are no receipts to collect, no vouchers or certificates to buy, no hassles for you and every purchase counts. 
The Friends of the Modesto Library operates the Little Shop, a used book and gift store inside the Modesto Library. 

We're 100% volunteer-run! Watch for future changes. We hope to expand hours as more volunteers sign on. 

Please consider volunteering as a sales associate; your help is invaluable. Potential volunteer gift shop sales associates please contact us: vol@modestolibraryfriends.org.
Use your credit card to donate to the Friends via Paypal. We'll channel your money into areas of need and support for the library.  
Memorial donations may also be made via Paypal.
Copyright FOML 2008-2016. Webmaster: wm@modestolibraryfriends.org