Used Book Sale
May 3, 2014
Saturday, 8 a.m. - 3 p.m.
Modesto Library Portico
1500 I St.
Find bargains galore: Fiction, biographies, children's books, history and more.
Donations needed!

   Contact Clare at 522-5054 or clarenoo@gmail.com. 
We also need help transporting books at 6:00 a.m. on the day of the sale. If you have a pickup truck, and are able to lift heavy boxes of books, please contact Clare.
Sale
profits up to $4,000 will be matched by Beard Family Companies!
Support the Library When You Shop
Grocery Cards
Save Mart and FoodMaxx 
S.H.A.R.E.S. is an acronym for Supporting Humanities, Arts, Recreation, Education & Sports in 

our community. Get a 

card that is already registered to Friends of the Modesto Library & swipe it at checkout. 
Raley's 
O'Brien's 
Stop by either of their stores and pick up a card at the checkstand. When you fill out the form to register the card, you may not find Friends of the Modesto Library on the list of participating organizations; just write it in yourself. 
Card must be swiped before your order is finished being rung up 
Up to 5% of your spending goes to our organization in the form of a quarterly check 
Purchase your items through eScrip's Online Mall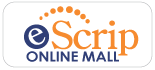 What is eScrip? eScrip has created a system that rewards customer loyalty by contributing a percentage of purchases made by participating families to school or youth based groups. Parents, teachers, friends and families are encouraged to register their grocery club cards, and existing credit/debit cards as supporters. A percentage of all purchases made at eScrip merchants will be given back to Friends of the Modesto Library. 

Participating merchants contribute each time your families make a purchase using their registered cards. There are no receipts to collect, no vouchers or certificates to buy, no hassles for you and every purchase counts. 
The Friends of the Modesto Library operates the Little Shop, a used book and gift store inside the Modesto Library. 

We're 100% volunteer-run! Watch for future changes. We hope to expand hours as more volunteers sign on. 

Please consider volunteering as a sales associate; your help is invaluable. Potential volunteer gift shop sales associates please contact us: vol@modestolibraryfriends.org.
Copyright FOML 2008-2014. Webmaster: wm@modestolibraryfriends.org